With these easy-to-follow instructions, make your own Origami Santa Hat. This inexpensive paper hat, when hung from the tree, makes a fantastic card decoration. It's a great Christmas craft to make at home with the family or as a group activity over the Winter holiday because it only needs a few simple supplies, and it won't break the bank.
Origami Santa Claus Hat:
You could use these cute little paper hats, there are so many ways. You can make small ones like these. You can use them on cards or gifts or a large one using gift wrap and use it to decorate your walls or doors.
Open them up and you can use them as a centerpiece on the table or as a cute homemade tree topper or as decoration on top of a wine bottle. Combine them, for a truly unique Christmas garland, with some origami Christmas trees and Santas. Or if you're looking for more easy Christmas origamic crafts make sure to scroll to the bottom.
Material required to make origami Santa hat
A red color square paper with size 15*15cm
Steps to follow to make an origami Santa Claus Hat:
Take your origami paper to make a rectangle with the colored side on the outside and fold it in half.
Now open back out.
With the white side facing up fold
The left corner meets the middle crease.
To make a point at the top repeat with the right corner.
Flip your paper over.
Fold the bottom edge up about 2-3 cm.
Take the left-hand side and fold down at an angle just past the center.
You want to fold the point at the top, an angle in half to make it naturally fold at the center.
To make a point, repeat on the other side this time folding to the edge of the previous fold.
Flip your origami over.
Take the bottom point, fold them up using the bottom of the white strip as a guide and follow the instructions in the video.
Carefully, now open the bottom of your hat.
Fold the two small points into the opening and turn it.
Flip your hat over
Fold the point at an angle.
Flip back over and press flat.
You may need a little glue to hold your hat flat depending on the type of paper you've used.
For a finishing touch stick a mini pom to the end of your hat.
Origami Santa hat video:
Click here Origami paper crafts are a favorite of mine. All year round but particularly at Christmas. This Easy Origami Santa is one I make year after year and I can already tell that this origami Santa hat is also going to be a firm favorite. They're really not so difficult to make. Don't you think? This simple project only needs a few attempts. The end result is seriously adorable.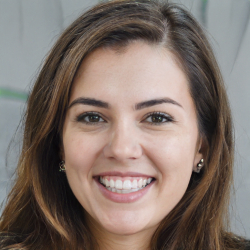 Latest posts by Annabel Buser
(see all)