While a hot glue gun certainly isn't necessary for all craft projects, using hot glue can really expand your possibilities.
A hot glue gun will help to keep materials securely together, from wood to fabric, so you can really get creative without worrying about whether your craft will stand the test of time.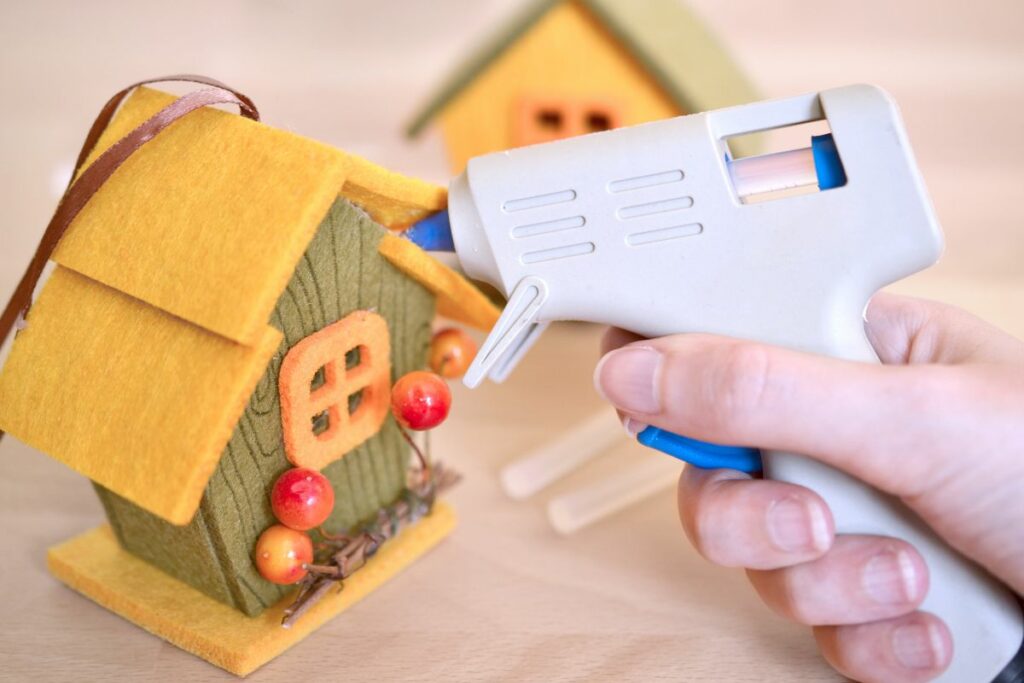 If you're looking for fun ways to incorporate your hot glue gun into your arts and crafts, we have 21 amazing ideas to share with you today.
Plus, if you don't have a hot glue gun yet but would like to get one, we're going to be helping you choose the perfect one. 
By the end of this article, you should be a hot glue gun expert and have some exciting new crafts to try out!
Hot Glue Gun Crafts: What You'll Need
Before we unveil our top 21 hot glue gun crafts, you should know what tools you'll need to complete them.
This way, you can be prepared and protected since working with a hot glue gun can be dangerous if the correct precautions aren't taken. 
To do these crafts using a hot glue gun, you will need:
Your glue gun. We'll tell you how to choose a high-quality, practical glue gun later in the article if you don't already have one. For now, though, we should stress that it's important to purchase a professional glue gun. Not only is a professional-grade glue gun more likely to be durable, but it will produce the best results. Higher-quality glue guns also tend to come with more safety features, which is crucial.
A glue gun stand. When you need to set your glue gun down during your craft project, you'll need a stand. This is to avoid putting your glue gun down onto any surfaces while it's hot.
A heat-resistant pad. As well as your glue gun stand, it's also best to have a heat-resistant pad. You won't need to put the gun directly onto the pad if you have a stand, but this will help to catch any drops of glue and give you a place to put your craft down while the glue is drying.
Finger protection. When using a hot glue gun, you should always wear a form of finger protection. The best protection for hot glue guns is a simple finger guard. Even if you're very careful, accidents happen, and it's just not worth taking the risk when it comes to hot glue.
A pair of pliers. The final tool you will need is a pair of pliers. You don't want to be holding parts of your craft together with your hands and hot glue could potentially leak out from underneath, so the best thing to do is hold your craft with pliers when applying and waiting for glue to set.
21 Crafts That Use A Hot Glue Gun
Now that you have all the tools you need, you're ready to pick out some crafts! We have chosen 21 of our favorite crafts involving a hot glue gun, and they're all easy to make at home.
Please ensure that any children are carefully supervised if involved in the project, and never let children handle the hot glue gun directly. Hot glue guns should only ever be used by responsible adults.
How To Choose The Best Hot Glue Gun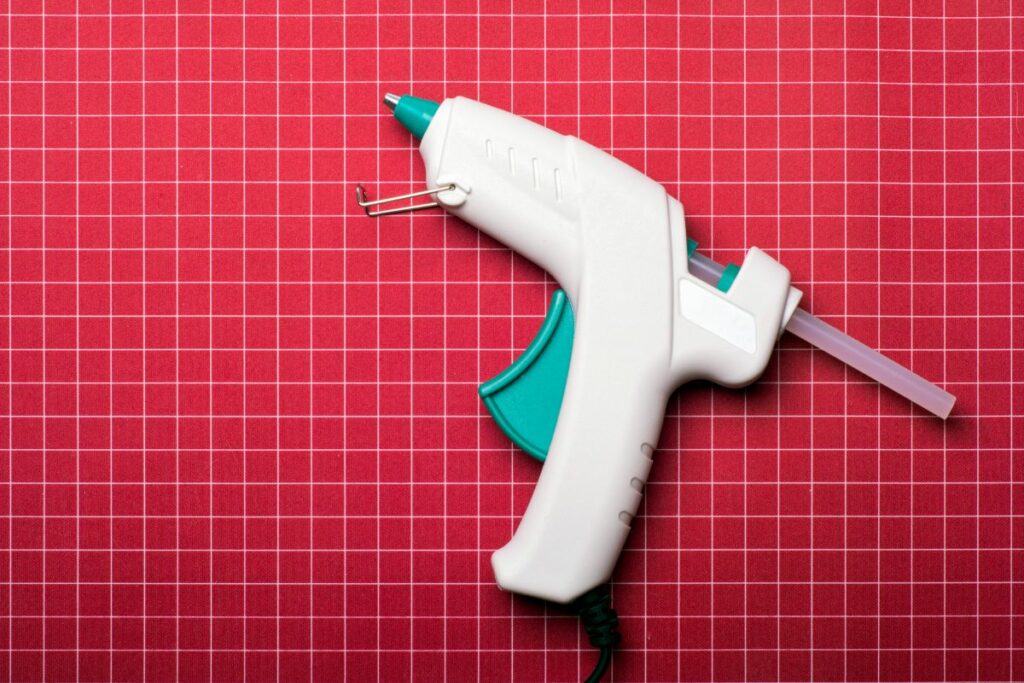 If you don't already have a hot glue gun but are interested in making some of the crafts listed above, now is the perfect time to invest in a glue gun.
However, you shouldn't be tempted to simply buy the cheapest hot glue gun you find through your chosen retailer.
You want your hot glue gun to be as precise and safe to use as possible, and ideally, you don't want to have to replace it any time soon. Therefore, you should prioritize certain features when choosing a hot glue gun. 
Your Needs
First of all, think about what specific projects you're planning to use your glue gun for. What materials will you be using to make your crafts, and will you be needing small, precise amounts of glue or higher quantities?
Once you have this information, you can look at the descriptions of glue guns you come across during your online research and see what kinds of materials they're suited to and how much glue they dispense at any one time.
Heat Settings
Make sure that you know how hot a glue gun gets before you purchase or start using it. You should also check how long it takes for the glue gun to reach its maximum temperature.
If you don't know how long it takes for a glue gun to heat up, you might assume it's still safe to touch when it isn't, and this can lead to injuries.
Of course, it's just better not to handle the glue gun with bare hands (other than the handle) once it's turned on, but knowing the heat-up time of a glue gun will also ensure that you don't attempt to apply the glue before it's ready.
Ideally, the temperature of the glue gun should be adjustable because certain projects may require glue to be applied at a lower or higher temperature.
Being able to adjust the heat settings on your glue gun will make your appliance more flexible and allow you to do more different types of crafts.
Ergonomics
Consider how ergonomic a glue gun is before buying it. If you want to execute your craft ideas well, and especially if you're going to be using it for long periods of time, you need a glue gun that is lightweight and comfortable to use.
The lighter your hot glue gun is, the less cumbersome it will feel to use. You should also make sure that it has a comfortable grip so that your hands don't get uncomfortable during the gluing process.
Cord/Cordless
Some hot glue guns have a cord while others are battery-powered. Whether you prefer a corded glue gun or a cordless model is entirely up to you.
If you have a convenient plug socket near your workspace, it doesn't really matter, but if you feel that a cord would be restrictive or require you to work in an inconvenient location, you should opt for a cordless model.
Stand
As we mentioned earlier, your glue gun should ideally have a stand so that you have somewhere to rest it between uses.
While it's true that you can create your own stand out of various materials if need be, it's easier to purchase one that comes with a stand included. 
Durability
We know it can be tempting to choose the most aesthetically-pleasing glue gun you can find, but the real priority should be durability.
A pretty glue gun is worthless if it doesn't function properly or if it breaks within a few uses, so be sure to take a look at the materials it's made out of and choose a glue gun that will stand the test of time.
Frequently Asked Questions
How Long Should You Wait For Hot Glue To Dry?
When people ask how long it takes for hot glue to dry, they're usually asking about the curing time.
This is different from the setting time, and it's important to be aware of this so that you don't pick up your craft and interrupt the drying process before it's ready. 
Hot glue will usually set in a matter of seconds (typically a maximum of 45 seconds), but you should wait 20 minutes for the glue to fully cure just to be safe. Often, hot glue will cure in 10 minutes, but it's always best to err on the side of caution.
Bear in mind that how long it takes for hot glue to dry will also depend on how much glue you're applying.
If the glue is serving as an adhesive for your craft project, the likelihood is that you're using sparing amounts, so it shouldn't take very long to dry.
However, if you're using the glue decoratively, you're probably using more, in which case, it's safest to give it at least 12 hours before you touch or move your craft. 
Also remember that just because hot glue looks dry externally doesn't mean it has dried throughout, so don't be fooled into thinking the glue has dried just because it looks a certain way.
Can You Wash Hot Glue?
If you're using hot glue on a fabric project, you might be wondering whether you'll be able to wash the fabric after the glue has been applied. This is especially relevant for wearable items.
Our best advice here is to avoid applying hot glue to anything you're going to need to wash on a regular basis. Hot glue isn't the best thing to use on garments, for example, since these will need to be washed whenever you wear them.
However, if it's something you may need to wash now and again but won't have to clean very often, you can go ahead and apply hot glue.
Just try to wash the item in question at a cold temperature, and if you're putting it in the washing machine, use the gentlest possible cycle. 
Bear in mind that the glue may still wash off no matter how careful you are, but you can take steps to ensure that your glue withstands the occasional wash.
Is There Anything Hot Glue Won't Stick To?
While one of the reasons we love using hot glue for crafts is because it's durable and versatile, there are still some materials we wouldn't recommend for hot glue projects.
If you're going to be using hot glue, it's best to stick to materials that are porous because this allows the glue to truly bind with the surface. Non-porous materials won't work so well with hot glue, and in some cases, the glue simply won't stick.
Now, there are some cases in which you won't want the glue to stick. For example, if you're making hot glue patterns on a separate surface to stick onto another item later, you'll need a non-porous surface that is also heat-proof so that you can peel the glue off once it has dried.
We recommend simply using your heat-proof pad for this. 
Can I Use Hot Glue To Stick Fabric Together?
Yes, you can use hot glue to stick two layers of fabric together, but you must be very careful.
First of all, it's important not to turn your glue gun up to the highest temperature setting when working with fabric.
Not only could you burn the material, but you could injure yourself in the process because hot glue can sometimes seep through fabric.
In fact, this is one of the situations where we recommend using a pair of pliers to hold and press the fabric together rather than using your hands. 
It's best to research any material you're considering using for your glue gun crafts beforehand so that you know how much heat they can withstand and what the appropriate temperature setting is.
What Is The Difference Between High-Temperature And Low-Temperature Guns?
If you're looking for the perfect glue gun right now, you might have noticed that glue guns may be advertised as either high-temperature or low-temperature.
This means exactly what you think it does. High-temperature hot glue guns operate at high temperatures, meaning they can heat up to 380 degrees fahrenheit. Meanwhile, low-temperature guns reach a maximum temperature of 250 degrees.
Lower-temperature glue guns are more suitable for fabric and plastic materials, whereas high-temperature models will work best for more robust materials that require heavier-duty bonding.
Is It Possible To Put Crayons Inside A Hot Glue Gun?
Some of the crafts we've recommended in this article involve melting crayons. You may be wondering whether you can simply put crayons straight into your glue gun rather than using other methods to melt the wax first.
The answer is yes, you technically can since it won't damage the gun itself, but colorful glue gun sticks might be the better option if you don't want the next few glue sticks you use to retain some of the wax color since some of the wax tends to linger behind in the chamber.
Also, it's a better idea to do this with an older, cheaper glue gun rather than a brand new, expensive glue gun just in case something goes wrong.
Conclusion
There are so many fun crafts you can make using a glue gun! We hope you've found a couple of crafts in our list that you would like to try.
Before you get started, make sure you have a glue gun that is appropriate for your chosen craft (specifically in terms of temperature settings) and get yourself some hand protection as well as a stand and a heat-proof glue gun pad.
If you're gluing fabric together, be especially careful and use a pair of pliers rather than your fingers to hold the pieces of material in place so you don't burn yourself.
Stay safe, and happy crafting!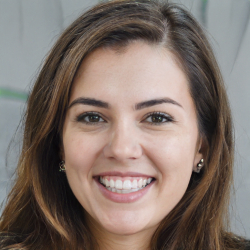 Latest posts by Annabel Buser
(see all)