Introduction
If you're a creative enthusiast looking to elevate your crafting game, learning how to use a Cricut machine is a fantastic step. Cricut machines, including the Cricut Maker, Cricut Joy, and Cricut Explore series, are versatile cutting machines that can transform your artistic ideas into reality. In this guide, we'll delve deep into the world of Cricut and explore how to use a Cricut machine effectively. Whether you're a seasoned crafter or a complete beginner, this article will walk you through the process, from setting up your machine to creating intricate designs using the Cricut Design Space software.
Getting Acquainted with Cricut Machines
Before we dive into the nitty-gritty of how to use a Cricut, let's familiarize ourselves with the different Cricut machines available. The Cricut Maker is renowned for its ability to cut through a wide variety of materials, thanks to its Adaptive Tool System. The Cricut Explore Air 2, on the other hand, is known for its speed and precision. The portable Cricut Joy is perfect for on-the-go crafting and creating smaller projects.
Unboxing Your Cricut Machine
When you unbox your brand new Cricut machine, you'll be greeted with excitement and a touch of curiosity. Inside the package, you'll find your Cricut machine, power cords, USB cables, and other essential accessories. Take a moment to carefully unpack everything and ensure that all components are present.
Setting Up Your Machine
Setting up your Cricut machine is a straightforward process. Begin by plugging in your machine and connecting it to a power source. Make sure to have a stable internet connection, as this is essential for accessing Cricut Design Space and the Cricut community. Follow the on-screen instructions to complete the setup process.
Exploring Cricut Design Space
Cricut Design Space is the heart of your Cricut machine's operation. This powerful design software allows you to create, customize, and cut intricate designs with ease. To get started, open the Cricut Design Space app on your desktop computer or mobile device. You'll find an array of tools and options that enable you to bring your creative visions to life.
Getting to Know the Smart Set Dial
The Smart Set Dial is a handy feature available on Cricut Explore machines. It simplifies the material selection process by providing predefined settings for various materials. To use it, simply turn the dial to the material you're working with, and the machine will adjust its settings accordingly. This is a great way to ensure optimal cutting performance.
Loading Your Cutting Materials
Now that you're familiar with the basics of Cricut machines and Design Space, it's time to load your chosen materials. Whether you're working with vinyl, fabric, or poster board, the process is similar. Open the clamp on the machine's cutting head, place your material on the cutting mat, and secure it in place. Then, load the mat into the machine by following the on-screen instructions.
Choosing the Right Blade
Selecting the appropriate blade for your project is crucial. For most standard materials, the fine point blade works perfectly. However, for thicker materials like balsa wood or leather, you might want to switch to the knife blade. Remember to insert the blade into the blade housing and tighten it before you start cutting.
Creating Your First Project
With your material loaded and your blade in place, it's time to create your very first project. In Cricut Design Space, you can choose from a wide range of pre-designed templates or create your own custom designs. Once you've selected your design, follow the prompts to adjust the size, placement, and orientation. When you're satisfied, press the "Go" button, and watch your Cricut machine work its magic.
Using Cricut Pens
Cricut machines aren't just for cutting – they can also draw intricate designs using Cricut pens. Simply insert a Cricut pen into the machine's pen holder, choose your design in Design Space, and let the machine draw it for you. This is a fantastic way to add personalized details to your projects.
Applying Iron-On Vinyl
Iron-on vinyl, also known as heat transfer vinyl, is a popular material for creating custom clothing designs and fabric projects. To use iron-on vinyl with your Cricut machine, create your design in Design Space, ensuring it's mirrored. Load the vinyl onto a Cricut mat with the shiny side down, follow the prompts for cutting, and then use a Cricut EasyPress or a regular household iron to adhere the design to your fabric.
Exploring Infusible Ink
Cricut Infusible Ink is another innovative material that allows you to create vibrant, permanent designs on compatible surfaces. Unlike iron-on vinyl, where the design sits on top of the material, Infusible Ink becomes one with the material, resulting in a professional and long-lasting finish. Remember to mirror your design before cutting and follow the specific application instructions for the best results.
Mastering Cricut Blades
A variety of blades are available for different cutting purposes. The fine point blade is the standard option for most materials, while the rotary blade is ideal for fabric cutting. The knife blade, on the other hand, can handle thicker materials like chipboard and leather. Make sure to select the appropriate blade for your project to achieve the best results.
Using the Cricut Cutting Machine's Adaptive Tool System
One of the standout features of the Cricut Maker is its Adaptive Tool System, which allows you to use a range of specialized tools. These tools, including the rotary blade and the knife blade, expand the capabilities of your machine, enabling you to work with intricate designs and thicker materials effortlessly.
Working with Cricut Vinyl and Transfer Tape
Cricut vinyl is a versatile material that can be used for a wide range of projects, from custom decals to home decor. After cutting your vinyl design, use transfer tape to lift the design off the backing and apply it to your desired surface. This ensures a precise and smooth transfer, giving your projects a professional look.
Exploring Cricut Cartridges and Cricut Access
Cricut offers a vast library of images and fonts through its subscription service called Cricut Access. Subscribers gain access to a treasure trove of design options that can be used in their projects. Additionally, Cricut cartridges are physical collections of images and fonts that can be used with specific Cricut machines.
Joining the Cricut Community and Accessing Tutorials
Learning how to use a Cricut is an exciting journey, and you don't have to embark on it alone. Join the vibrant Cricut community, where crafters from around the world share their creations, tips, and tricks. You can also find a wealth of Cricut tutorials online, covering everything from basic operations to advanced techniques.
Conclusion
In just a short span of time, Cricut machines have revolutionized the crafting world. With their precision, versatility, and user-friendly design, these cutting machines empower both beginners and experienced crafters to bring their creative visions to life. By following this comprehensive guide on how to use a Cricut, you're well-equipped to embark on your crafting journey and explore the endless possibilities that Cricut machines offer. So, gather your materials, fire up Cricut Design Space, and let your imagination run wild as you create stunning, personalized projects with ease.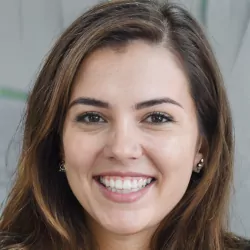 Latest posts by Annabel Buser
(see all)